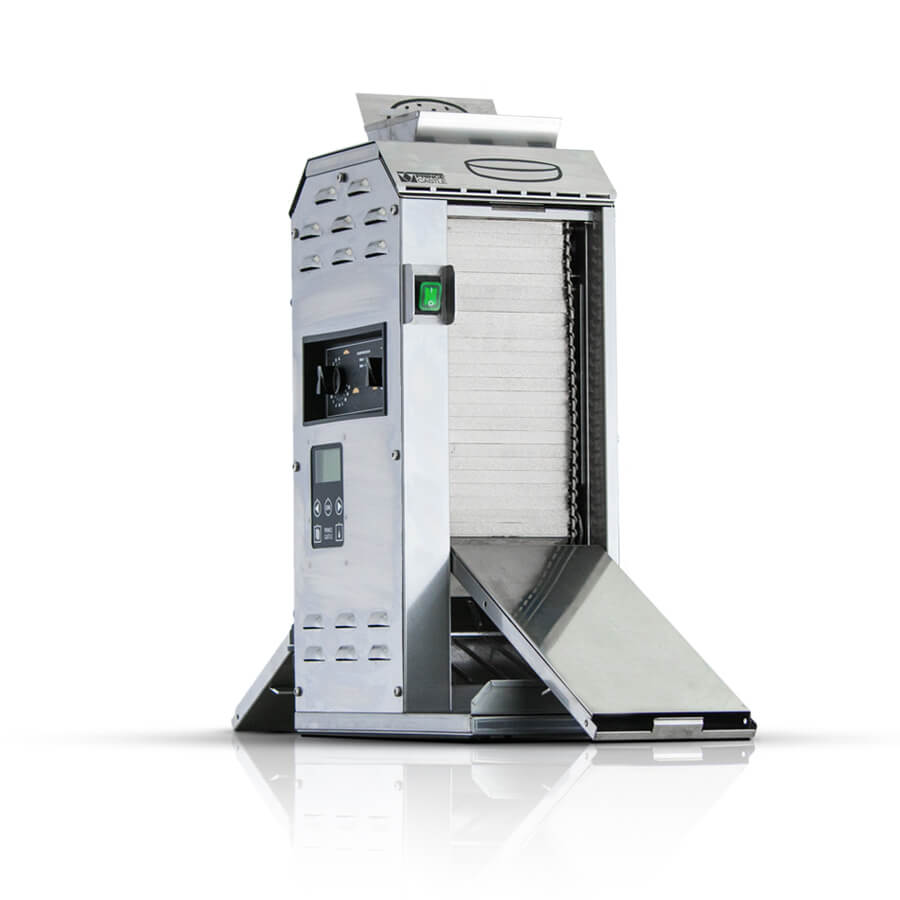 Vertical Artisan Toaster
DCFT-ART-MCDNA
DCFT-ART-MCDCE
DCFT-ART-MCD
The Prince Castle Vertical Artisan Toaster is the new platform in artisan roll toasting. The dual belt design allows one handed parallel feeding, and unparalleled flexibility. Dual belt heaters and a dual sided platen pack in heat and color while maintaining maximum energy efficiency. The Mini accommodates rolls up to 14 cm wide and compression adjustment up to 1.1 cm. The small footprint provides flexibility in placement for even the tightest of kitchens.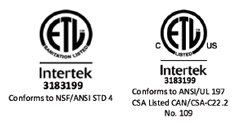 Product Overview
Prince Castle's Dual Continuous Feed Toaster is the next generation of vertical bread toaster, providing operators with perfect bun caramelization. With its space-saving/contemporary kitchen design, the DCFT an increase bun throughput while decreasing the cost of ownership through patented advances in platen and conveyor technology.
Equipped with separate bun compression controls for crown and heel, the DCFT can toast a wide variety of sizes and types of carriers (core buns, specialty buns, etc.) without a decrease in performance or product quality. By toasting the face of buns and breads, sugars are caramelized and the end result is hot and moist toast with a "fresh out of the oven" presentation. Driving all of this is a brushless, continuous-duty DC motor which is fully enclosed and sealed with longlife lubrication, eliminating the need for monthly maintenance.
By reducing the amount of expensive consumables used by competitive units (such a rubber conveyor belts) into an approximate 65cm (w) x 64cm (h) x 40cm (d) footprint, the Dual Continuous Feed Toaster from Prince Castle improves toast quality and throughput while significantly decreasing the cost of ownership to the operator.
Product Features
Toast core buns and specialty rolls in one toaster
Adjustable speed, temperature, and compression adjustment for multiple bread products
Stainless steel belt for lifetime reliability
Release sheet is the ONLY consumable
Tilt out access doors for easy maintenance
SNAP™ design for rapid servicing and trouble-shooting
Heated landing zone for core buns
Gold quality toasting at only 500˚ F for low current drawand power consumption
Compatible with 1 & 3 phase wiring
Optional Motorized Butter Wheel
Motorized butter wheel ensures the proper amount of butter is dispensed every time.
Removable butter tray ensures safe, sanitary food preparation, as well as ease of cleaning.
Stainless steel construction for durability.
Reduces waste of expensive butter.
Product Spec Sheet
Dimensions
| | | | | | |
| --- | --- | --- | --- | --- | --- |
| Model Number | Width in (cm) | Height in (cm) | Depth in (cm) | Shipping Weight lbs (kg) | Shipping cu. ft. (cu. m.) |
| DCFT-ART-MCDCE | 9.4 (23.9) | 25.3 (64.3) | 17.3 (43.9) | 75 (34) | TBD |
| DCFT-ART-MCDNA | 9.4 (23.9) | 25.3 (64.3) | 17.3 (43.9) | 75 (34) | TBD |
| DCFT-BWART-MCD | 15.1 (38.4) | 7.6 (19.3) | 4.6 (11.68) | TBD | TBD |
Electrical
| | | | | |
| --- | --- | --- | --- | --- |
| Model Number | Volts | Hz | Amps | Plug Configuration |
| DCFT-ART-MCDCE | 200 – 240 | 50/60 | 20 | Mennekes 148A |
| DCFT-ART-MCDNA | 200 – 240 | 50/60 | 20 | Mennekes 320P6W |
| DCFT-BWART-MCD | N/A | N/A | N/A | N/A |
Certifications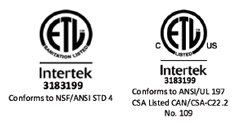 ---
Ray Kroc, who would later purchase McDonald's from the McDonald brothers, was an equipment salesman, selling multi-mixers for the foodservice equipment manufacturer, Prince Castle.
---
There are McDonald's restaurants in more than 100 countries, serving over 40 million customers daily.
---
The first McDonald's with a seating area opened in 1962 in Denver.
---
The first drive-thru at a McDonald's in Arizona was announced in 1975.
---
McDonald's fast food drive-thru restaurants let to the invention of cup holders for the inside of vehicles.
---
November 16 is now designated as National Fast Food Day!
---
Today, 96-percent of Americans have visited at least once a McDonald's.
---
Among some of the American celebrities, who have worked at McDonald's at one time in their life are Pink, Shania Twain, Jay Leno and Rachel McAdams.
---
The most popular fast food in America is French fries.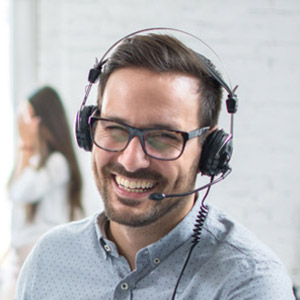 Contact Your Local Sales Rep
Your local sales rep is more than happy to answer any questions you may have.
Contact us to get started with your order.